Spotlight on Excellence District Issue 27 6/19/13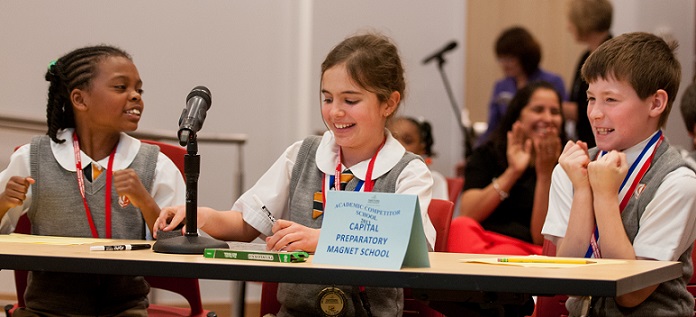 Three of Capital Prep's winning 4th Grade Math Team members score big points at the 5th Annual HPS Academic Competition Finals.
Read More.

The Superintendent's Corner

To the Hartford Public Schools Family:

School reform is personal to me.

It is not an abstract concept built around theories of action, portfolios of schools or test scores — it is about the future of my own daughter who attends the Hartford Public Schools and the 24,000 other children who are part of the Hartford Public Schools family.

While I was disappointed by the actions of the Board and Mayor yesterday evening, we must not allow ourselves to be distracted from building on the considerable progress that we have made in advancing student achievement in Hartford Public Schools.

To learn more about our accomplishments during the 2012-2013 school year, please enjoy my conversation with Hartford Public Schools' Ombudsman, Marta Bentham, as we discuss, "A Year in School Reform." Have a wonderful summer!

Winner Selected for 2013 Teacher of the Year

Dozens of Hartford Students Take Home Trophies in the Final Round of the Fifth Annual Hartford Public Schools Academic Competition

Twenty-two School Teams participated the final round of the 2013 Academic Competition. Sixty-three elementary grade students and their families, battled it out to see who will be the best at vocabulary, math, writing and geography in the final round of the Fourth Annual Hartford Public Schools Academic Competition.

Hartford Public Schools Launches its First Annual STEM Expo
The 1st Annual Hartford Schools' Citywide S.T.E.M.Expo was held on May 22nd at the Koeppel Community Center at Trinity College. The Expo was open to all PK – 12 students in the categories of filming, gaming and apps, inventions, traditional science fair.


United State Secretary of Education Arne Duncan Wowed by HPS Students during Visit to Classical Magnet School

When U.S. Education Secretary Arne Duncan and Gov. Dannel Malloy took questions on school safety issues from Bulkeley High, Classical Magnet and West Middle School students last Friday, the "post-Newtown hall" turned out to be much more than a forgettable photo opp. The students brought sophisticated questions –and that's what made the event worthwhile.

The Office of Academics Announces the First Annual District Debate Championship

The Office of Academics is happy to announce theresults of the First Annual District Debate Championship. The semi-final and final debates took place on Thursday, May 2 at the Wadsworth Atheneum. Four teams from different high schools competed for the title of District Debate Champion. The competitors debated the resolution, "Resolved: Public schools should be allowed to raise money by selling advertising space to corporate sponsors and other businesses," which was provided one week in advance.
HAVE A WONDERFUL SUMMER! WE'LL BE BACK IN SEPTEMBER!