Spotlight on Excellence District Issue 29 10/14/13

Issue 29




October 15, 2013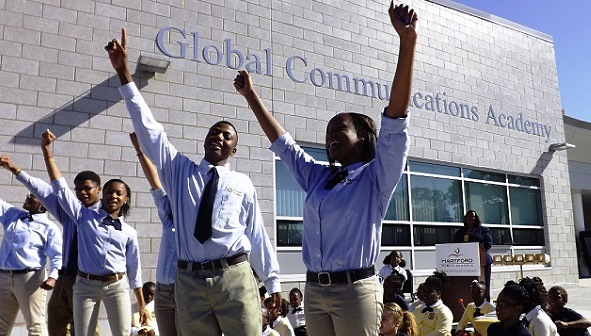 Global Communications Academy Principal, Kimberly Stone-Keaton (far right, behind podium) proudly stands behind her performing students at the International Baccalaureate K-10 school's dedication ceremony on September 18th
.
Read More.

The Superintendent's Corner

To the Hartford Public Schools Family:

Autumn is suddenly back again, bringing chilly mornings, brightly colored leaves and pumpkins at the supermarket. Our Hartford Public Schools students have been back in class for over a month working hard and engaged in learning.

October is College and Career Readiness Awareness Month in Hartford. It is our duty to prepare our students for what awaits them as adults, and a college diploma is a tremendous advantage in today's job market. It is our mission to ensure that all of our students are prepared to compete and succeed in the global economy. This month brings us fantastic news from our high schools about five HPHS students attending the World Summit of Nobel Peace Prize Laureates in Poland, four Hartford Public Schools participating in Model United Nations, and our Academy of Engineering & Green Technology providing wind power to a village in Nepal.


In Our Community

Hartford Public High School Students Attend the 13th World Summit of Nobel Peace Prize Laureates in Warsaw, Poland

Five students at

Hartford Public High School expect to have a once-in-a-lifetime experience next week of traveling halfway across the Earth to discuss

global peace and human rights with some of the world's most prominent figures at the annual World Summit of Nobel Peace Laureates in Warsaw, Poland. The summit participants include former Nobel prize winners the Dalai Lama; ex-Soviet President Mikhail Gorbachev; Polish Solidarity leader Lech Walesa; and former South African President Frederik Willem de Klerk, among others.




Four Hartford Public Schools to Participate in the World Affairs Council's Model United Nations

The Model United Nations will be held this year on December 6th and 7th

at the University of Hartford, 200 Bloomfield Ave, West Hartford, CT. Students from four Hartford Public Schools will participate:

The Law and Government Academy at HPHS, coached by Kellin Murphy; students from Capital Prep Magnet with Amoy Brock; High School, Inc. will attend with teachers

Chelsea Usher and Krycia Rybczyk; and Bulkeley High School's Teachers Prep and Humanities Academy students, coached by Frederick Turner.


Academy of Engineering and Green Technology at HPHS Students Help to Power a School in Nepal

A school in a remote

village

in Ne

pal is getting electricity, thanks to some Hartford High School students. The 14 Connecticut kids in the school's academy of Engineering and Green Technology have been designing and building a wind-powered turbine for the school in Saldang, which is in Nepal's Dolpa region and surrounded by the Himalayan mountains. The school has no power is accessible only by yak, and not at all in the winter when the region is blanketed with snow.