Spotlight On Excellence – Issue 12 – 1/24/14

Issue 12
January 24, 2014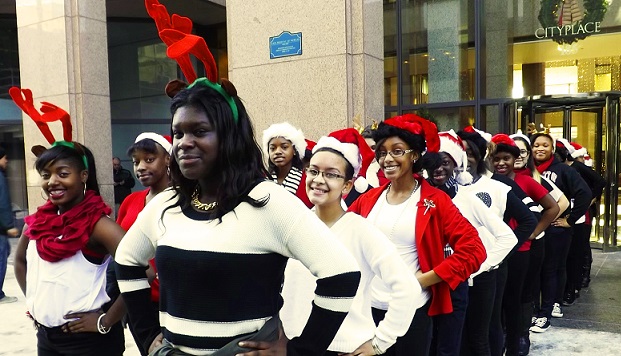 Above are members of the Hartford Magnet Trinity College Academy dance group which goes by the name "Wings of Gold in Royal Creation" as they were leaving City Place I on Friday, December 20th. Three performing groups from HMTCA entertained business people in downtown Hartford at CityPlace I lobby; the State House Square Food Court and the Atrium at City Hall. Read More…

The Superintendent's Corner

Welcome back and Happy New Year!

Between the holidays and the snow fall at the start of the new year, we have had a wonderful extended break. As much as we all talk about maintaining balance in our life, our time inevitably shifts heavily toward our work life throughout the fall. I hope that you are well rested and have enjoyed family time over the break.

2014 promises to be a great year! On January 16th, our School Choice Department hosted the first Hartford Education Expo at Hartford Public High School. Parents questioned principals and staff members from 21 schools about curriculum, uniforms, academic expectations, transportation and other subjects to help them make their decision. They were able to fill out the School Choice application on sight and identify the schools they would prefer to have their children attend.

Hartford Schools Honor Dr. King With Live Stage Show For Students

Hartford Public Schools celebrated the birthday of Dr.

Martin Luther King, Jr., by presenting the popular stage show/history lesson "At The Table With Dr. King" to about 850 middle and high school students at the Weaver High School auditorium. The program, which employs live music, poetry and video, dramatizes the "kitchen in the table moment" when Dr. King was called upon to lead the Civil Rights Movement. In so doing, the show demonstrates to students what can happen when a person hears the call to serve his or her community and responds to it.

High School "Mathletes" Compete in Hartford

Teams of students from High School, Inc., Law &

Government Academy at HPHS and Academy of Engineering & Green Technology at HPHS squared off against one another in a mathematics competition on January 9th. The relaxed, first-time event in downtown was devised by two math teachers at Hartford Public High School with a shoestring budget and an idea that germinated last fall. Nicole Selmanie and Barbara Maidelis, who teach at the school's Law and Government Academy, wanted to start a math team to support students talented in the subject.

New Student Senate Back at Work with New Officials

The 2013-2014 Hartford Public Schools Student Senate has

elected Kim Williams of Capital Preparatory Magnet and Luke Powers, of Great Path Academy at Manchester Community College to serve as the non-voting student representatives on the Hartford Board of Education for the remainder of the school year. The Senate delegates chose from candidates who put their names in nomination for the positions Each candidate was required to deliver a campaign speech before the entire Senate explaining why he or she should be elected.