Spotlight On Excellence – Issue 31 – 12/16/13

Issue 31
December 16, 2013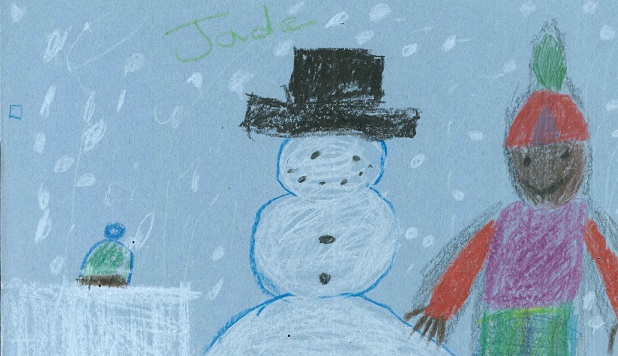 This delightful wintery scene is a Superintendent's Holiday Greeting Card Contest winner by Jade Williams, a second-grader at Sanchez School. To see the rest of the winners, made by students who help to remind us of the simple joys of the holiday season, click here.

The Superintendent's Corner

Dear Friends and Colleagues,

At this holiday time of the year it is easy to get caught up in gift giving, meal preparations and travel plans so that we lose the very essence of the Christmas celebration which is to take the time to appreciate all of the blessings in our lives, and especially our family and friends. I want to take this opportunity to thank each of you for all you do every day for the students and families in our Hartford Public Schools. I want to thank you for all the blessings you have been to our students in small and big ways. Know that I am grateful to each of you for your silent victories both in and out of our classrooms.

SAVE THE DATE!
Hartford Public School's First Annual Education Expo!
Thursday, January 16, 2014 from 5:00 p.m. to 8:00 p.m.
Hartford Public High School Field House,
55 Forest Street, Hartford, CT 06105

Come and plan for your children's Future educational successes:


HPS Happenings

Paula Altieri Named CFO of the Year By The Hartford Business Journal

Hartford Public Schools' Chief Financial Officer, Paula Altieri, who gained national recognition for developing a new student-based budgeting approach, in which "the money follows the child" to the school he or she chooses to attend, has been named 2013 CFO of the Year for nonprofit organizations by the Hartford Business Journal.

.

Board of Education Approves Magnet School Plans for High School, Inc. & Capital Community College Senior Academy

The Hartford Board of Education voted on November 25th to approve the creation of two new magnet schools that were proposed as part of the state's negotiated settlement with the plaintiffs in the Sheff v. O'Neill desegregation case.

The board also established a process for selecting a neighborhood school to receive significant amounts of funding as a state Lighthouse School, if it is redesigned with a proven high-performing educational program.

Five City Schools Send Delegates to Model U.N.

A record 62 high school students from Hartford Public Schools join more than 700 of their colleagues from across the state on December 6th as delegates to the annual Model United Nations Plenary Session, sponsored for more than 60 years by the World Affairs Council of Connecticut.

The session took place Friday, Dec. 6, from 2:00 p.m. to 8:00 p.m., and Saturday, Dec. 7, from 9:30 a.m. to 2:30 p.m. at the University of Hartford, 200 Bloomfield Ave. in West Hartford.