Spotlight On Excellence – Issue 33 – 2/12/14
Issue 33
February 12, 2014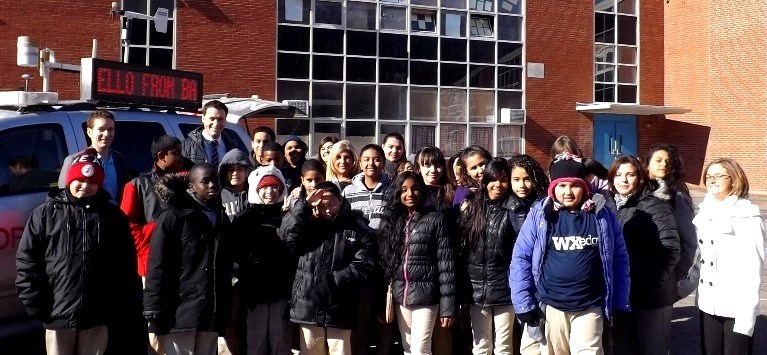 Sixth Graders from Batchelder School are flanked by the Channel 8 Weather Team meteorologists, Quincy Vagell (left) and Sam Kantrow, Principal Elaine Papas (center) and their teachers (right) during an educational visit from the Channel 8 Weather Team and their Storm Chaser vehicle on January 30th. Read More…

The Superintendent's Corner

Dear Hartford Public Schools Family and Friends,

It is amazing how time flies and we are almost at the end of the lottery season for our next school year. Please remember that Friday, February 28th is the deadline for submitting applications for School Choice. Some exciting changes include the addition of a 9th grade at Global Communications Academy (which now accepts students from all Hartford zones.) Our Culinary Arts Academy moves to its new home at Lincoln Culinary Arts Institute. We have so many excellent choices for education in our district, and some new additions including Achievement First Summit Middle School (just 5th grade this year,) and The Capital Community College Senior Magnet Academy.




CHOICE COUNTDOWN CLOCK: 16 DAYS left to complete an application!

Hartford Public School's District School & RSCO Magnet School Lotteries

Deadline to apply is FRIDAY, FEBRUARY 28, 2014!

ATTEND & APPLY: At the Secondary Magnet Fair where school representatives for Grades 6-12 will be present.
The fair will be held on Saturday, February 22nd in the Learning Corridor, 53 Vernon Street Hartford, CT from 1:00 to 3:00PM

Join Us for A Night of Comedy with John Leguizamo at Burns Latino Studies Academy on Saturday Night, February 15th!

Join us for an evening of comedy with acclaimed actor and comedian John Leguizamo as he shares his experience growing up as a Latino immigrant in the United States with the Greater Hartford Community through the use of his signature humor. Emceeing the event will be accomplished actor and film producer Griffin Dunne, the great grandson of Dominick F. Burns, the school's namesake. Proceeds from this event will benefit renovations to the Griffin Dunne Auditorium at Burns Latino Studies Academy. Doors Open at 5:00pm and will close at 6:15pm. Get your tickets now, or click here to learn more.

Hartford Public Schools and Capital Community College Announce the Opening of Capital Community College Senior Magnet Academy

Hartford Public Schools, in partnership with Capital Community College, will open a new magnet school this fall, in which students earn their high school diploma and complete credits for an associate college degree at the same time — free of charge.

Located in the Capital Community College building at 950 Main Street in Hartford, the Capital Community College Academy is designed for 11th and 12th graders only. The academy aligns student schedules so that they can be totally immersed in college course work as they finish high school. Commitment to a rigorous curriculum is a must.

Hartford Parent University Trains Advocates for Children … and Adults

Parents once too intimidated to come forward and address the Board of Education on important school issues now have a foundation supporting their confidence: the Hartford Parent University (HPU). With unanimous Board backing this week for a plan to provide 200 more parents with training this spring, only one point preceded the vote. It was about the dollars.

"My reluctance is only that this is such a small amount of money," Mayor Pedro Segarra said of the $79,166 contract for HPU's next round of outreach. "I think we need more resources."

So does Milly Arciniegas, the president of the Hartford Parent University. She previously served for four years as the head of the citywide umbrella group known as the Hartford Parent Organizations Council (HPOC). From that experience, and her own volunteer work as a parent and 13-year advocate for better education outcomes throughout the city, Ms. Arciniegas knows the drill when it comes to steadily fighting for children and school accountability.
Please submit articles to
SpotlightExcellence@hartfordschools.org