Spotlight On Excellence – Issue 34 – 3/12/14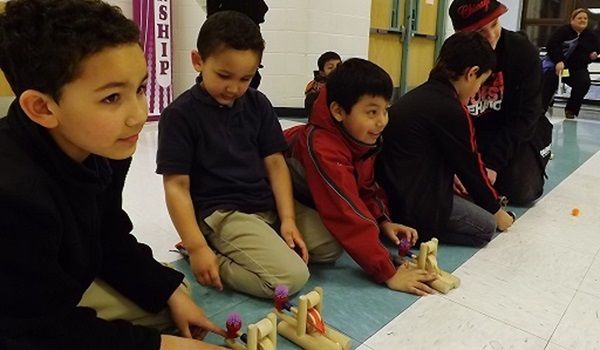 On Thursday, February 27th students at Sanchez School received a visit from Mad Science, an organization that presents science to students through fun, engaging performances and hands-on experiences.

Read More…

The Superintendent's Corner

Dear Hartford Public Schools Family and Friends,

The energy that everyone in our district– our teachers, our students, our administrators, our families, our clergy, and our business leaders– generates with their hard work can only turn into success for our children. Through our goals of the Third Grade Promise, the Middle Years Redesign and College Readiness, the focus of our energy is sharpened. This month we are preparing to celebrate the successes of our teachers. Each of our schools has the opportunity to nominate a teacher for our Annual Teacher of the Year Awards ceremony which takes place on May 22rd. March is also National Social Workers Month and this month we recognize our social workers and the invaluable work they do in our schools and community.


My Lottery Application Was Submitted – What Happens Next?

Watch for your notification in April: Both the Hartford District Choice and the Regional School Choice Offices (RSCO) will begin to notify families of placements in April. Families will be notified through email, telephone and U.S. Mail. You will be able to accept your child's placement on-line, so be sure to have your log-in and password available.

Accept, Accept, Accept: When you receive notification, accept your placement! If you applied on-line, you can log-in and accept on-line:

HPS Happenings

JMA Students Cover Presidential Visit

Journalism & Media Academy Magnet School students Brittania Brown, '17 and Odane Campbell, '15 got the chance of a lifetime when they covered President Barack Obama's recent visit- from the press box. The two students, members of the school's newspaper Teens Today, covered President Obama's March 5 visit to Central Connecticut State University to discuss raising the minimum wage.

"It was a wonderful opportunity…it was very interesting," Brown said. "[President Obama] is very good at what he does."

Dozens of Volunteers Participate In Hartford's Read Across America Celebration

More than 100 volunteer readers participated in the National Education Association's 2014 Read Across America Day celebration honoring the 110th anniversary of the birth of Dr. Seuss. Readers included Superintendent Christina M. Kishimoto; Mayor Pedro Segarra; Susan B. Dunn, President and CEO of United Way of Central and Northeastern Connecticut; Dr. Myra Jones-Taylor, Executive Director, State Office of Early Childhood; Yvette Meléndez, Chair of the Board of Hartford Foundation for Public Giving & Vice President for Government and Community Alliances, Hartford Healthcare and Hartford Hospital; Dolores Cole, Executive Director, Office of Early Literacy and Parent Engagement; Principal Marge Jackson, M. D. Fox Elementary School; WFSB-TV Meteorologists Melissa Cole and Mark Dixon; Attorney Jeffrey Dressler; Hartford Board of Education members Beth Taylor and Robert Cotto.

Hartford Parent University Pleased by Number of Parent Leaders-in-Training at Latest Learning Session




Parents, who want to become better advocates for their children in school, had an opportunity to learn the many ways of doing so on Saturday, March 1, at a day of free workshops sponsored by Hartford Parent University (HPU) in partnership with Hartford Public Schools.

Topics covered in the workshop sessions included "Knowing Your Rights as Parents," "Navigating the Hartford Public School System" and "What Parents Can Do About Bullying."

Workshops on strategies to use when reading to children and preparing them for the new SBAC tests (Smarter Balanced Assessment Consortium) that will replace the CMT and CAPT examinations will also be held.