Spotlight On Excellence Issue 4 3/22/13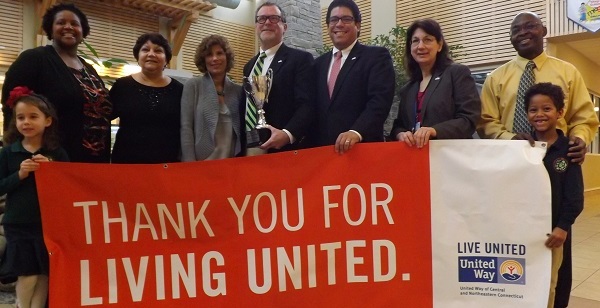 Mechelle Tovar and Susan Dunn of the United Way of Central and Northeastern Connecticut presented the official 2012 United Way Campaign trophy to the Environmental Sciences School at Mary Hooker for the highest participation in this year's campaign. (L. to R.) Student Kiera Braunwart, Mechelle Tovar, Miriam Flores of HPS, Susan Dunn, Principal Peter Dart, Kelvin Roldan of HPS, teachers Chris Joslyn & Jerry Barry, and student Lohkoah Pay. Read More.
The Superintendent's Corner


As part of their science curriculum

our students learn

that energy never disappears; it can only transform into something else. The energy that everyone in our district– teachers, administrators, familes, clergy, and students– generates with their hard work turns into success for our children. Through our goals of the Third Grade Promise, the Middle Years Redesign and College Readiness, the focus of our energy is sharpened.

This month we are preparing to celebrate the successes of our hard workers. Each of our schools is nominating a teacher for our Annual Teacher of the Year Award celebration which takes place on May 23rd. We celebrate with our magnet schools, ten of whom just received Magnet Schools of Merit Awards, recognizing them as among the best schools of their kind in the United States.

HPS Happenings

HPS Announcements

In Our Community

HPS in the News

Cabinet News:
Dr. Carole Collins Ayanlaja, Chief Academic Officer

Ten Hartford Schools Receive Magnet Merit Awards

Ten Hartford public schools have been

selected by Magnet Schools of America to receive Magnet Schools of Merit Awards, recognizing them as among the best schools of their kind in the United States. Seven of those schools – STEM Magnet at Annie Fisher, Breakthrough Magnet, Classical Magnet, the Hartford Magnet Trinity College Academy, Noah Webster MicroSociety Magnet, the Sport and Medical Sciences Academy and University High School of Science and Engineering – were named Magnet Schools of Excellence, the top category given to selected schools around the country.

Hartford Schools Nominate 44 for Teacher of the Year

Forty-four teachers have been nominated by their schools to participate in the 2013 Teacher of the Year competition for Hartford Public Schools. Each school-based nominee will now undergo an intensive screening and interview process conducted by a special district-wide Teacher of the Year committee made up of Hartford Public School curriculum directors, officials from the Hartford Federation of Teachers and former winners of the event. After its review, the committee selects three finalists, who will then receive a video-taped school-site visit for the final evaluation and be asked to complete a series of written essay questions. The winner will be announced on Thursday, May 23, at the annual Teacher of the Year banquet to be held in Marriott Hartford Downtown Hotel, located at 200 Columbus Boulevard, Hartford, CT.

Dr. Kishimoto Appointed to Board Of Latino Superintendents Association

Hartford Superintendent Christina M. Kishimoto (pictured here with her daughter, and Principal

Elaine Papas (R.),

catching a varsity basketball game at Weaver High School)

has been

named to the Board of Directors of the Association of Latino Administrators and Superintendents (ALAS), a national leadership group dedicated to assuring that every school effectively serves the educational needs of all students with an emphasis on Latino youth.

District Celebrates Read Across America and Draws Attention to the Third Grade Promise

A record number of about 400

corporate

executives and public officials fanned out to every PreK through second grade classroom in Hartford today to read aloud one of the classic children's books written by the late Dr. Seuss as part of the 16th annual Read Across America celebration spearheaded by the National Education Association.