Spotlight On Excellence – Issue 8 – 9/27/13

Issue 8
September 27, 2013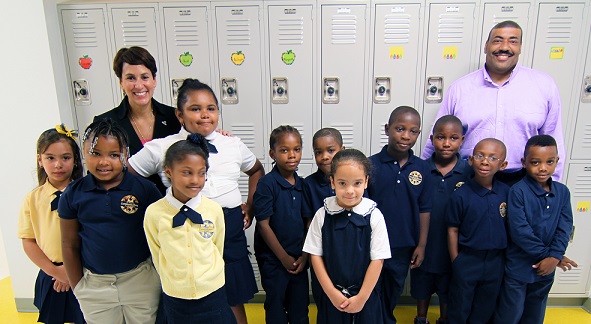 Superintendent Dr. Christina M. Kishimoto celebrates the first day of school with students and teacher, Kimo Kendrick
at
Global Communications Academy, now an International Baccalaureate school. It was one of three new, or newly renovated school facilities visited by city and school officials on the First Day of School Bus Tour.
Read More.

The Superintendent's Corner

To the Hartford Public Schools Family:

On August 27, we began the 2013-2014 academic year as one of the most advanced public school districts in the nation, offering more and better school options to prepare our children for college and career success.

The Global Communications Academy, was officially designated an International Baccalaureate World School. As an IB school, Global has been authorized to teach the International Baccalaureate Primary Years Programme for students ages 3 to 12, one of the most challenging and rigorous education curriculums in the world. To add to the excitement, the school will start the academic year in a newly renovated building at 85 Edwards Street.

To learn more about what will be happening during our new 2013-2014 school year, please enjoy my conversation with Hartford Public Schools' Ombudsman, Marta Bentham in,
"A Year of Promise."


– Dr. Christina M. Kishimoto

School has just started, but the Future is coming soon!

The Regional School Choice Office (RSCO) Lottery for Magnet School and Open Choice seats for the 2014 – 2015 School Year will take place from November 15, 2013 through February 28, 2014.


The Hartford District Choice Lottery for Hartford District Schools for the 2014 – 2015 School Year will also take place from November 15, 2013 through February 28, 2014.

HPS Happenings

United States Senator Chris Murphy Visits the Latino Studies Academy at Burns School to Help Shed Light on National Attendance Awareness Month

On Monday, September 9th, U.S. Senator Chris Murphy visited the Burns Latino Studies Academy in Hartford as part of a month-long national drive to let families know about the critical role they play in getting their




children to school on time every day and how good attendance is linked to academic success. At Burns, the senator conducted three classroom visits to reinforce the importance of building a habit of good attendance. He discussed the strategies that the school is employing to reduce chronic absenteeism and met with parents to hear any obstacles they face in maintaining good attendance.

Hartford Public Schools Launches its First Annual Family Convocation to Present the New Family & Community Engagement Plan and Demonstrate the Parent Portal

Hartford Public Schools hosted over 100 parents and community members at its first Family Convocation on Saturday, September 21st at the newly renovated M.D. Fox School at 470 Maple Avenue in Hartford. The morning included a demonstration of the newly launched Parent Portal (PowerSchool tool for parents,) a presentation of the Family & Community Engagement Plan, and student performances. A light breakfast was served from 8:30am until 9:00 am, and childcare was available.

Hartford Students Return To Class: District Showcases Three Modernized School Buildings And Opens Three New Magnets

Hartford Public Schools kicked off the 2013-2014 academic year by unveiling three renovated school buildings and adding three new magnet schools to its range of quality educational selections.

Superintendent Christina M. Kishimoto, Mayor Pedro E. Segarra, Board of Education Chairman Matthew K. Poland and officials from government, business and the philanthropic communities welcomed the city's 22,000 students back to class with a traditional bus tour of the district to introduce its latest initiatives.