Spotlight on Excellence Parents Issue 3 02/11/13

Issue 3
February 22, 2012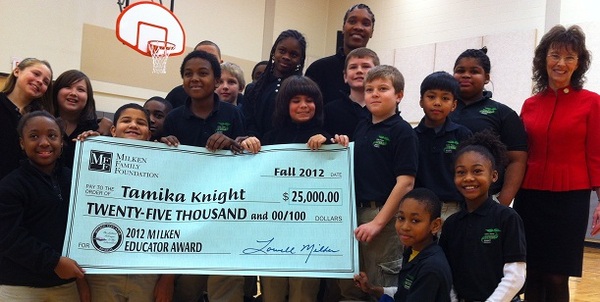 A very surprised Tamika Knight celebrates her Milken Educator Award with her proud students from Annie Fisher STEM and
Jane Foley (right) from the Milken Family Foundation.

The Superintendent's Corner


These past two weeks have been challenging across the state with the record snowfall. On behalf of the district, I extend our deepest thanks to the Mayor's office, and to all state and city departments of public works for all of their help getting our students safely back into school.

March is almost upon us and so it's time to get ready for CMT and CAPT testing. The tests are designed to establish high expectations for the education of Connecticut students, identify students who need extra help in reading, writing, mathematics and science, help schools and teachers identify weaknesses in their curriculum and improve instruction in those areas, help parents and teachers monitor students' achievement, and improve the accountability of the state's educational system.


In Our Schools

HPS Happenings

HPS Announcements

Teacher at Annie Fisher Surprised By Milken Award: Education's "Oscar" Came With a $25,000 Check

What was billed as a school assembly and celebration

turned into a shocking

surprise for fifth grade teacher Tamika Knight of the Annie Fisher STEM Magnet School, when she was presented with the prestigious Milken Educator Award. The unsuspecting Ms. Knight, who sat quietly behind her students during the initial portion of the event, opened her eyes wide in utter disbelief when she heard her name announced.

Student Senate Officers Air Issues of Concern during Interview by Dr. Christina M. Kishimoto for Hartford Public Access Television

Last week Superintendent of Schools, Dr. Christina M. Kishimoto had the pleasure of interviewing the Student Senate President, Tiffany Mitchell and Hartford's two Student Delegates to the Board of Education, Minny Lesperance and Joselyn Arroyo for the Conversations in Education television interview show at Hartford Public Access (Channel 5.)

The District Choice Lottery a Success!

When this year's School Choice Lottery ended on January 31st, every one of the District's 1,015 eighth grade students had met the deadline for completing the mandatory Hartford Public School District Choice application for placement at a Hartford District High School.

.

Please visit our Hartford Public Schools website by clicking

here

.