Spotlight On Excellence Parents Issue 6 5/27/13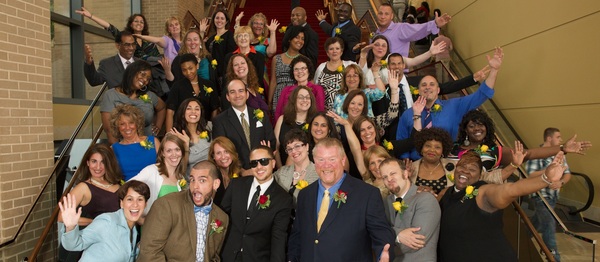 All of the nominees for the 2013 Teacher of the Year Award join (front row, from left to right) Superintendent Dr. Christina Kishimoto, the three finalists Joseph Battaglia, Mario Marrero and David Mangus, 2012 Teacher of the Year, Keith Sevigny and Vice Chair of the Hartford Board of Education, Lori L. Hudson.
Read more about the finalists…

The Superintendent's Corner


Loud trumpets are often sounded in celebration of great, national triumphs or once-in-a-lifetime victories. But this May, in Hartford, we sound our small, but mighty trumpets in gratitude to celebrate our teachers who achieve quiet victories every day, every hour and every minute in their classrooms, engaging their students in learning. These are not famous generals in the military or huge political figures, but dedicated people who are working hard to inspire their students daily. It is on this level — teacher-to-student, person-to-person, one-on-one — where victory is achieved every day in our school district by each of our 1,847 teachers.

HPS Happenings

Meet Mario Marrero, Hartford's 2013 Teacher of the Year

It is one thing for a teacher to believe that every child can learn. It is quite another for a teacher to persuade every one of his students that they can learn. Mario Marrero, a fourth-grade teacher at the Betances STEM Magnet School, is precisely that kind of teacher, according to colleagues. "He always sets high expectations for his students, not only in their academics, but in their behavior," said fellow teacher Melissa Rodriguez. "They are like small soldiers as they walk through the hallways and into their room." Born in Hartford to a family of teachers, Mr. Marrero received his primary middle and high school education in South Windsor. During his college years, Mr. Marrero studied in Mayaguez, Puerto Rico, and graduated from Southwestern Adventist University in 2006 with a bachelor's degree in elementary education.

Sport & Medical Science Academy

Student

Entrepreneurs Recognized by President Obama

On Monday, April 22, the President hosted the White House Science Fair and celebrated the student winners of a broad range of science, technology, engineering and math (STEM) competitions from across the country. The President hosted the first-ever White House Science Fair in late 2010, fulfilling a commitment he made at the launch of his Educate to Innovate campaign to inspire students to excel in math and science. As the President noted then, "If you win the NCAA championship, you come to the White House. Well, if you're a young person and you produce the best experiment or design, the best hardware or software, you ought to be recognized for that achievement, too." Two of the students chosen were from the Sport and Medical Sciences Academy in Hartford, CT, specifically from Anne Nguyen's Marketing NFTE Course

.

Law & Government Academy at Hartford Public High School Hosts Congressional Hearing on Gun Violence

Congressman John B. Larson (D-Hartford) hosted a Field Hearing of the Congressional Gun Violence Prevention Task Force on May 10th at the Law & Government Academy at Hartford Public School on Forrest Street. Congressman Mike Thompson (D- CA), Chairman of the Task Force, presided over the hearing. Larson and was also joined by Gov. Dannel P. Malloy, Mayor of Hartford Pedro E. Segarra, Hartford Public Schools Superintendent Christina M. Kishimoto, various state and local officials and subject matter experts to discuss gun violence in Connecticut and across the nation.