Dear Families,
I hope you had a safe and pleasant summer and are ready for the new school year! Thank you for your continued partnership. Please see below for some updates from Hartford Public Schools.
<NEW> The First Day of School is Tuesday, August 29!
Get ready – the first day of school is Tuesday, August 29! I am so excited to see what our beautiful and capable students will achieve this school year. I know that our staff members are eager to have students back in the classrooms to embark on another exciting educational journey.
As a reminder, you can visit our Back to School webpage for resources to help you prepare for a successful school year. Make sure you have submitted all of the mandatory health documentation for your child, learn the school bell times, and check the uniform requirements. As always, the Welcome Center is available to answer any back-to-school questions.
I hope you enjoy your last few days of summer, and I look forward to seeing all of our students when I visit their schools this year.
<NEW> Health and Safety Update
As you prepare for the return to the classroom, please know that we are taking steps to ensure our students stay safe and healthy. As the COVID-19 pandemic subsides, we have reevaluated the structures we have in place to anticipate and respond to potential issues. Please click here to review the latest memo from our District Health and Safety Team, which provides guidelines for managing illness and symptoms.
<NEW> Summer Reading Challenge Wraps Up
Thank you to all of the students who participated in this year's Summer Reading Challenge! More than 3,600 students in Hartford made a commitment to reading every day this summer! Each week, students who logged their minutes were entered into raffles to win prizes. For one of the prizes, I had the pleasure of treating some students and families to lunch. We enjoyed great conversations about books, the upcoming school year, and more. Remember to keep reading throughout the school year!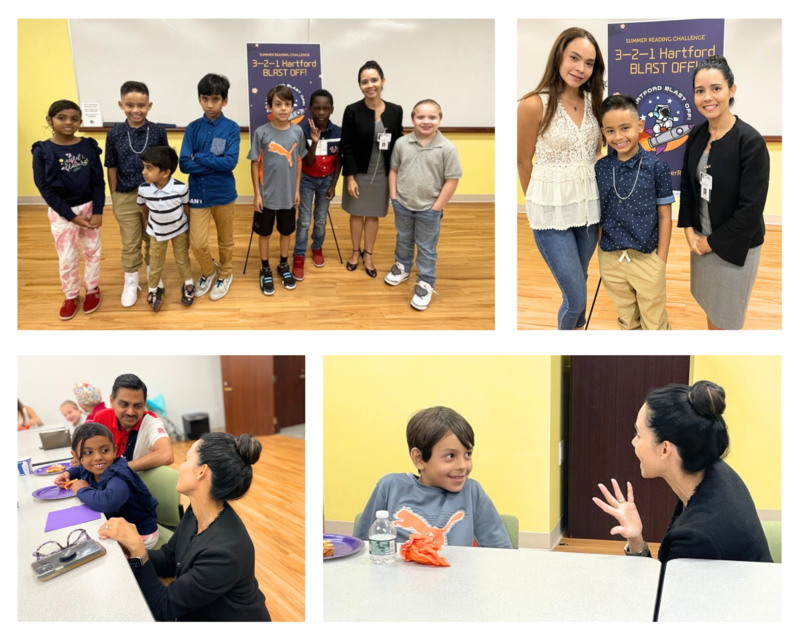 <REMINDERS>
Resources to Prepare for First Day of School
Yours, in partnership,
Dr. Leslie Torres-Rodriguez Superintendent Hartford Public Schools
Actualización de la superintendente, 25 de agosto de 2023
25 de agosto de 2023
Estimadas familias:
Espero que se hayan cuidado y que hayan tenido un verano placentero, ¡y que estén listos para el nuevo año escolar! Gracias por su permanente colaboración. A continuación podrán ver algunas novedades de las Escuelas Públicas de Hartford.
<NUEVO> ¡El primer día de clases es el martes, 29 de agosto!
A prepararse: ¡el primer día de clases es el martes, 29 de agosto! Me entusiasma mucho ver lo que nuestros hermosos y capaces estudiantes lograrán este año escolar. Sé que los miembros de nuestro personal están ansiosos por tener a los estudiantes de vuelta en las aulas para embarcarse en otro emocionante viaje educativo.
A modo de recordatorio, puede visitar nuestra Página web de vuelta a clases para conocer los recursos de ayuda para prepararse para un año escolar exitoso. Asegúrese de haber presentado toda la documentación obligatoria respecto de la salud de su hijo, de informarse sobre los horarios de los timbres y de revisar los requisitos para los uniformes. Como siempre, el Centro de Bienvenida está disponible para responder todas las preguntas relacionadas con el regreso a la escuela.
Espero que disfrute de los últimos días del verano; tengo muchos deseos de ver a todos nuestros estudiantes cuando visite sus escuelas este año.
<NUEVO> Actualización sobre la salud y la seguridad
Mientras se prepara para regresar al aula, debe saber que estamos tomando medidas para garantizar la seguridad y la salud de nuestros estudiantes. Ante la remisión de la pandemia de COVID-19, hemos vuelto a evaluar las estructuras que tenemos establecidas para anticiparnos y responder a los posibles problemas. Haga clic aquí para revisar el último memorando de nuestro Equipo de salud y seguridad del distrito, el cual da las directrices para el manejo de las enfermedades y los síntomas.
<NUEVO> Finaliza el Desafío de lectura de verano
¡Gracias a todos los estudiantes que participaron en este Desafío de lectura de verano de este año! ¡Más de 3,600 estudiantes de Hartford asumieron el compromiso de leer todos los días durante este verano! Cada semana, los estudiantes que presentaron registros de sus minutos de lectura participaron en sorteos para ganar premios. Tuve el placer de invitar a algunos estudiantes y sus familias a almorzar, y ese fue uno de los premios. Disfrutamos de grandes conversaciones sobre libros, sobre el próximo año escolar y más. ¡Recuerde seguir leyendo durante todo el año escolar!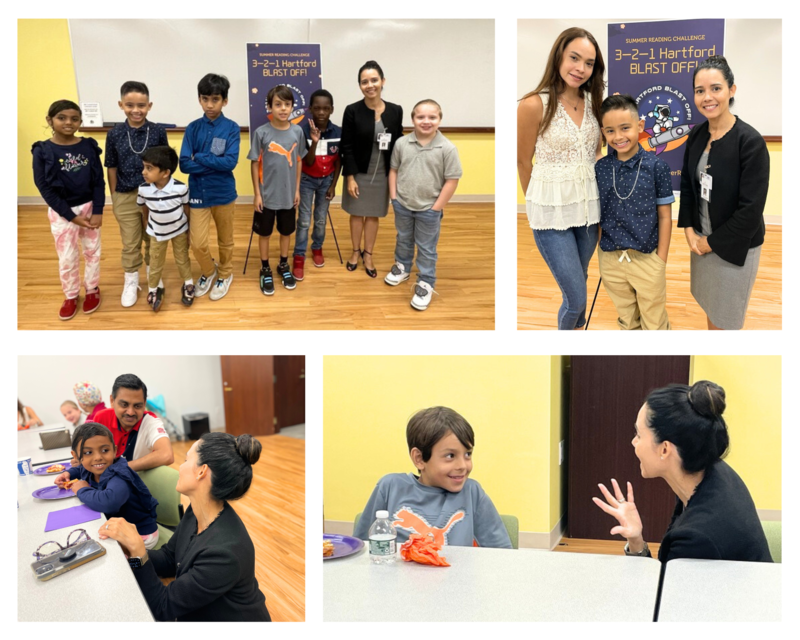 <RECORDATORIOS>
Recursos para preparar el primer día de clases
Atentamente, en colaboración,
Dra. Leslie Torres-Rodríguez, Superintendente
Escuelas Públicas de Hartford