Dear Families,
I hope you are having a successful start to the 2023-2024 school year! Please see below for some updates from Hartford Public Schools.
NEW Hispanic Heritage Month Begins
Today marks the start of Hispanic Heritage Month. At Hartford Public Schools, we celebrate our Hispanic and Latinx students, staff, and families and recognize the important role they play in our community. As a Latina myself, it brings me great pride to work and live in a community that values the importance of diversity. Throughout the next month, we'll be sharing stories of how our schools are honoring Hispanic heritage, through the arts, in the classroom, and beyond. I invite you to share your stories with us, too.
I know our diversity makes us stronger, and I encourage everyone to celebrate their heritage every day of the year.
NEW Congratulations to our Attendance Winners!
I'm proud to announce that three schools have won a field trip of their choice for having the best attendance during the first week of school. Congratulations to Breakthrough Magnet School South, Kennelly School, and Burns Latino Studies Academy! Remember, students will have a chance to win incentives throughout the year for coming to school. They'll also be invited to participate in dress down days, team building days, and more. It is so important that all of our students show up to school every day so they can have access to the learning, support, and resources they need to succeed.
NEW School Spotlights: Kinsella and S.A.N.D.
I had the great pleasure of joining two of our schools for special events this week. On Tuesday, I joined Kinsella staff and students and some of our local first responders for the annual 9/12 ceremony. Each year, Kinsella's two campuses come together to recognize the events of September 11, 2001 and reflect on the way our community united and recovered in the days that followed. This year's theme was "Dream Big." I was so inspired by the student performances which included dancing, singing, and poetry.

I also attended the Walk with Little Amal with students from S.A.N.D. Amal is a 12-foot puppet representing a young Syrian refugee. She has traveled across 13 countries to raise awareness about displaced children, immigrants, and refugees. During her walk through downtown Hartford, we also celebrated the importance of inclusive communities like Hartford who welcome people from all over the world. I was grateful to experience this moving event with our S.A.N.D. students who were so excited and eager to learn more.



REMINDERS AND RESOURCES
Community News and Events: Free Books available at the Reading Opens the World Event!
Join a Family Leadership Meeting with F.A.C.E.S

Yours, in partnership,
Dr. Leslie Torres-Rodriguez Superintendent Hartford Public Schools


Actualización de la Superintendente - 15 de septiembre de 2023
15 de septiembre de 2023
Estimadas familias:
¡Espero que estén teniendo un exitoso inicio del año escolar 2023-2024! Vea a continuación algunas actualizaciones de las Escuelas Públicas de Hartford.
<NUEVO> Comienza el Mes de la Herencia Hispana
Hoy comienza el Mes de la Herencia Hispana. En las Escuelas Públicas de Hartford, homenajeamos a nuestros estudiantes y miembros del personal y a nuestras familias hispanas y latinas, y reconocemos el papel importante que desempeñan en nuestra comunidad. Como latina, me siento orgullosa de trabajar y vivir en una comunidad que valora la importancia de la diversidad. Durante el próximo mes, compartiremos historias sobre la forma en que nuestras escuelas honran la herencia hispana a través de las artes, en el aula y más allá. Lo invito a que también comparta sus historias con nosotros.
Sé que nuestra diversidad nos hace más fuertes y aliento a todas las personas a celebrar su herencia cada día del año.
<NUEVO> ¡Felicitaciones a nuestros ganadores de la asistencia!
Me enorgullece anunciar que tres escuelas ganaron una salida de campo de su elección por tener la mejor asistencia durante la primera semana de clases. ¡Felicitaciones a la escuela Magnet Breakthrough (Sur), a la escuela Kennelly y a la Academia de Estudios Latinos Burns! Recuerde que nuestros estudiantes tendrán la posibilidad de ganar incentivos durante el año por concurrir a la escuela. También se los invitará a participar en los días de vestimenta informal, los días de fortalecimiento de equipos y más. Es sumamente importante que todos nuestros estudiantes asistan a la escuela todos los días para que puedan tener acceso al aprendizaje, el apoyo y los recursos que necesitan para lograr el éxito.
<NUEVO> Los centros de atención de la escuela: Kinsella y S.A.N.D.
Tuve el enorme placer de unirme a dos de nuestras escuelas para participar en eventos especiales esta semana. El martes, acompañé al personal, a los estudiantes y a algunos de los equipos de primera respuesta de Kinsella en la ceremonia anual del 9/12. Cada año, los dos campus de Kinsella se juntan para reconocer los acontecimientos del 11 de septiembre de 2001 y reflexionar sobre la manera en que nuestra comunidad se unió y se recuperó en los días que siguieron. El tema de este año fue "Soñar en grande". Las presentaciones de los estudiantes, que incluyeron baile, canto y poesía, fueron una gran fuente de inspiración para mí.



También asistí a Walk with Little Amal (Caminata con la pequeña Amal) con los estudiantes de S.A.N.D. Amal es una marioneta de 12 pies de altura que representa a una joven refugiada siria. Ella ha viajado por 13 países para generar conciencia sobre los niños, los inmigrantes y los refugiados desplazados. Durante su caminata por el centro de Hartford, también celebramos la importancia de las comunidades inclusivas como Hartford que reciben de buena manera a personas de todas partes del mundo. Me sentí agradecida por vivir este evento conmovedor con nuestros estudiantes de S.A.N.D. que estaban muy emocionados y ansiosos por aprender más.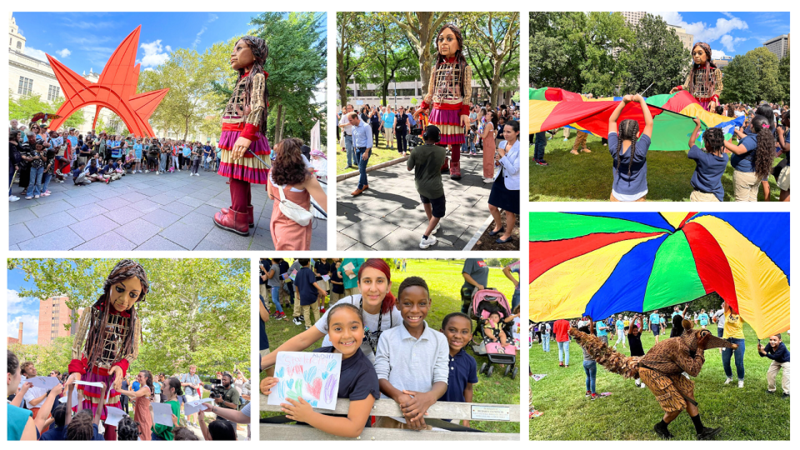 <RECORDATORIOS Y RECURSOS>
Noticias y eventos comunitarios: ¡Hay libros disponibles en el evento La lectura abre el mundo!
Participe en una reunión de liderazgo familiar con F.A.C.E.S
Atentamente, en colaboración,

Dra. Leslie Torres-Rodríguez, Superintendente
Escuelas Públicas de Hartford